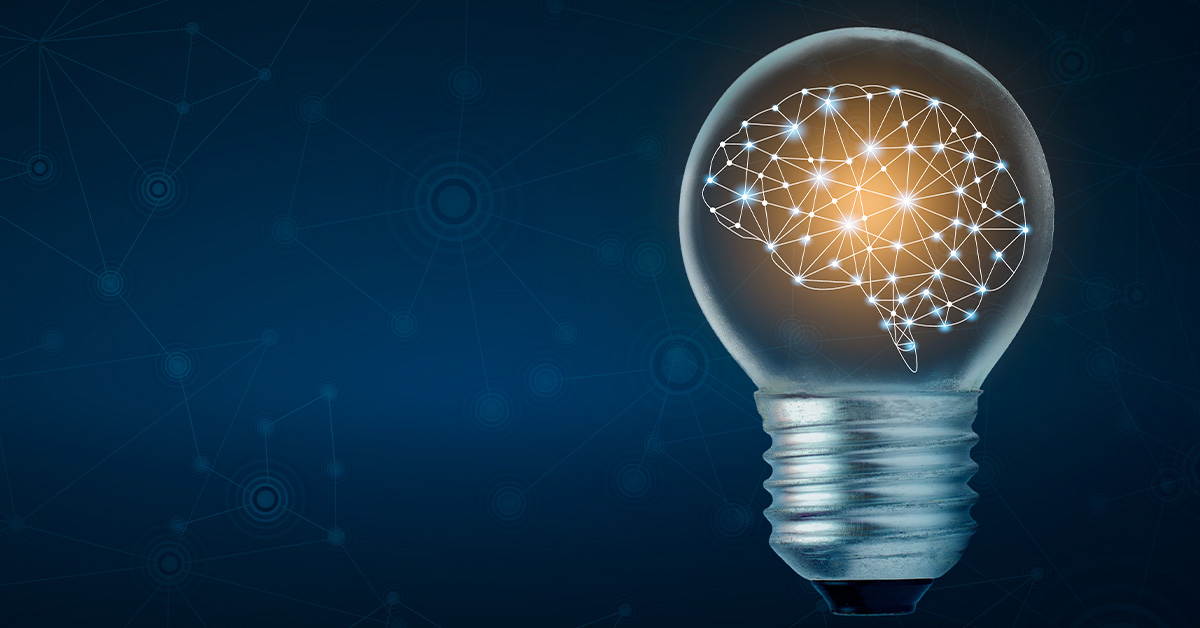 Content Marketing Personalisation: 4 Brands' Winning Tactics
by Anastasia Dyakovskaya – June 27, 2017
Mass marketing is becoming a thing of the past.
Today, the more customized a product or brand can be, the better. But although personalization has been a buzzword in the content marketing industry for some years, how many companies have realized its full potential?
Many brands have gone the technology route. They've turned to bots, artificial intelligence (AI), and advanced algorithms to harness user data and try to target smaller sub-demographics with ever more relevant and meaningful messaging.
Others have continued to bank on the power of the personal, human touch – seemingly irreplaceable in a world where we're more and more often looking at screens than into each others' eyes.
Whether relying on data, technology, and automation, or a more hands-on, human approach, there's no one way to get personalization right. Efforts depend on the company and its user base, financial power, mission, and interests. When done well, with audience needs and desires as top priority, personalization can lead to astounding results.
And people are more eager for it than ever.
An Accenture study from this year showed that 81 percent of consumers report wanting brands to get to know them and understand when to approach them, as well as when not to. And, for those more interested in ROI, technology market research giant Gartner predicted last year that "by 2020, smart personalization engines used to recognize customer intent will enable digital businesses to increase their profits up to 15 percent."
Here's a look at a few brands who are doing everything right – whether they're working with robots and tech, human beings, or both.
L'Oreal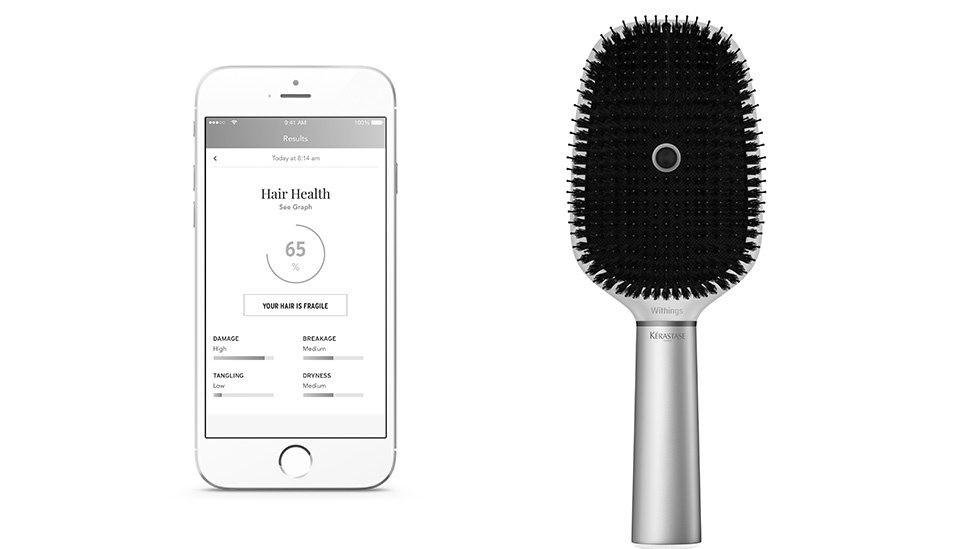 Personalization tactic: Digital innovation and experimentation across the board.
How it works: L'Oreal's many beauty brands take advantage of today's technologies to add personalized elements into their marketing efforts and product offerings.
"Because of mobile, consumers now have a personal stylist, hairdresser, and makeup artist right at their fingertips, 24/7," L'Oreal USA's CMO, Marie Gulin-Merle, told Think with Google. "To make sure we are there and useful whenever our customers need us, we must offer more than just customized products. We need a personalized digital experience, too."
This year, for example, the L'Oreal-owned luxury line Kérastase launched the world's first smart hairbrush. It's equipped with signal analysis algorithms to assess a user's hair quality and monitor the effects of different products and routines. It also has sensors and a microphone that aid in gauging hair type and condition.
An accompanying app provides additional information, tips, and customized product recommendations, striving to lead users to their best-ever locks and looks. As user data automatically streams into the app via Wi-Fi or Bluetooth, it's compounded with other factors like weather that can impact hair, providing a fuller picture of hair health and necessities. Down the line, the digital pioneer hopes to use the data collected with each brush stroke to further personalize marketing efforts and innovation within fields like augmented reality (AR).
Human- or tech-driven: Totally tech. L'Oreal uses its position as one of the world's largest, most profitable beauty companies to invest in the future – and the future is technology.
Results: The hairbrush won't be available for purchase until fall 2017, but L'Oreal hopes it will prove as successful as its other forays into personalization. The company released the My UVPatch last year and found that 60 percent of users had fewer sunburns and 35 percent used more sunscreen. And more than 20 million people use L'Oreal's Makeup Genius app to try on makeup and nail polish via AR.
"Makeup Genius and My UV Patch both look to be transformative technologies," Guive Balooch, Global VP of L'Oreal's Research and Innovation Incubator, told Ad Age. "We hope the brush will be the third."
Spotify
Personalization tactic: Creating unique playlists for each user – daily – with music they're sure to love.
How it works: Spotify is on a quest to give users perfect playlists. The music company provides each user with a Discover Weekly playlist personalized with songs they have yet to hear. Spotify builds those lists using its treasure trove of data from 2 billion and counting user-created playlists. Algorithms draw parallels among various subscribers' listening habits and suggest songs seen on similar playlists – that users have not yet discovered.
In addition, Spotify offers users another weekly personalized playlist, called Release Radar (two hours of new music from artists each user already listens to), and a Daily Mix, made up of songs they frequently listen to, plus new ones that are likely to suit a subscriber's tastes.
Human- or tech-driven: Tech, all the way. Spotify's technology works to recognize and plan along user-, playlist-, and song-specific patterns, as well as human behavior. Every time users add or remove songs, skip ones they don't like, put others on repeat, or go into "private-mode," Spotify's system pays attention, continuously working to optimize the listening experience.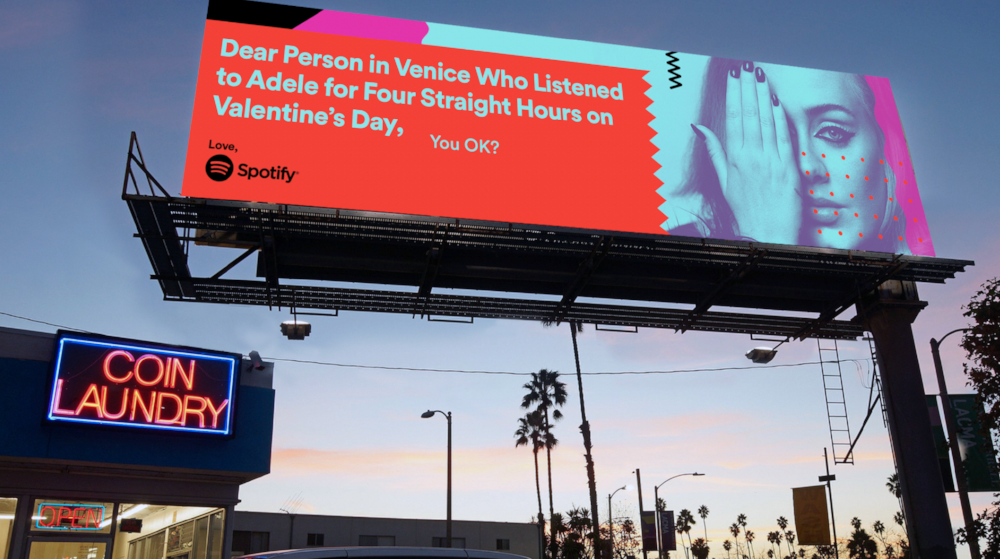 Results: Users are astounded again and again by Spotify's ability to predict exactly what they want to hear, and even what they might not know they want. The companyhit 50 million paid subscribers this year, an announcement that came on the heels of a wildly successful data-driven campaign, "Thanks 2016, it's been weird."
The creative series of outdoor ads featured real user statistics, often personalized by location. Happen to be the person in Venice, California, who listened to Adele for four straight hours on Valentine's Day? Or the South Williamsburg dweller who played "Cold Water" six times on the hottest day of the year? That's an amazing example of personalization at work – and at play.
"If you are simply intaking massive data, you'll quickly become overwhelmed," said Spotify's CMO Seth Farbman at #ThinkContent 2017. "You have to be listening" to really learn what the data is telling you about your audience.
Rocksbox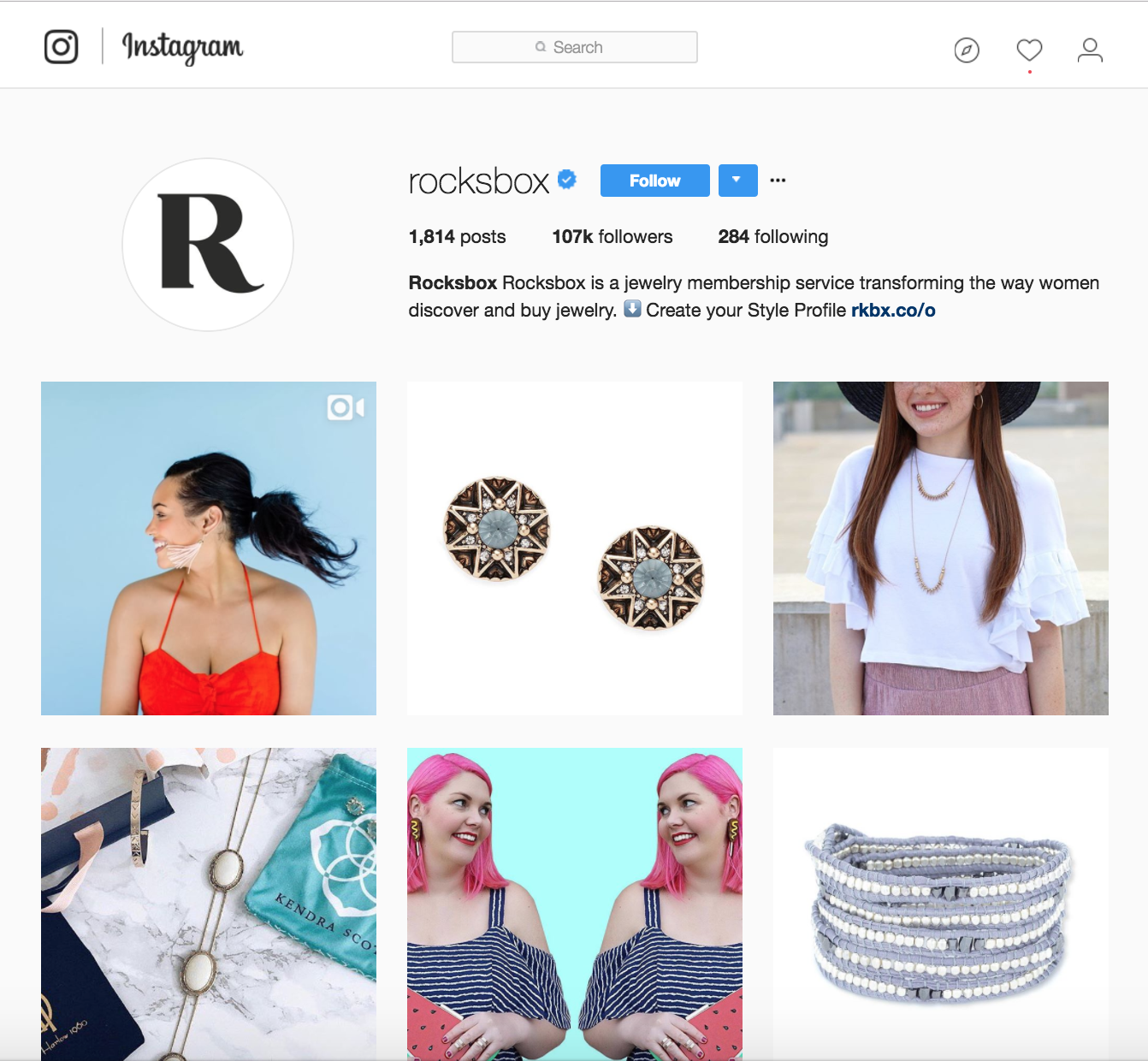 Personalization tactic: Omnichannel hyper-personalization.
How it works: "Every single item we recommend to our customer, every single physical piece we put into a customer's hand, we've specifically picked out for that customer," says Chanel Li, VP of Business Operations at Rocksbox, a growing jewelry membership service.
The team starts with collecting as much information about a user as possible, from personal stats to taste preferences via a style survey. This helps Rocksbox stylists learn basics like ring size and whether a user likes statement jewelry as opposed to delicate pieces, as well as what turned her on to the service in the first place.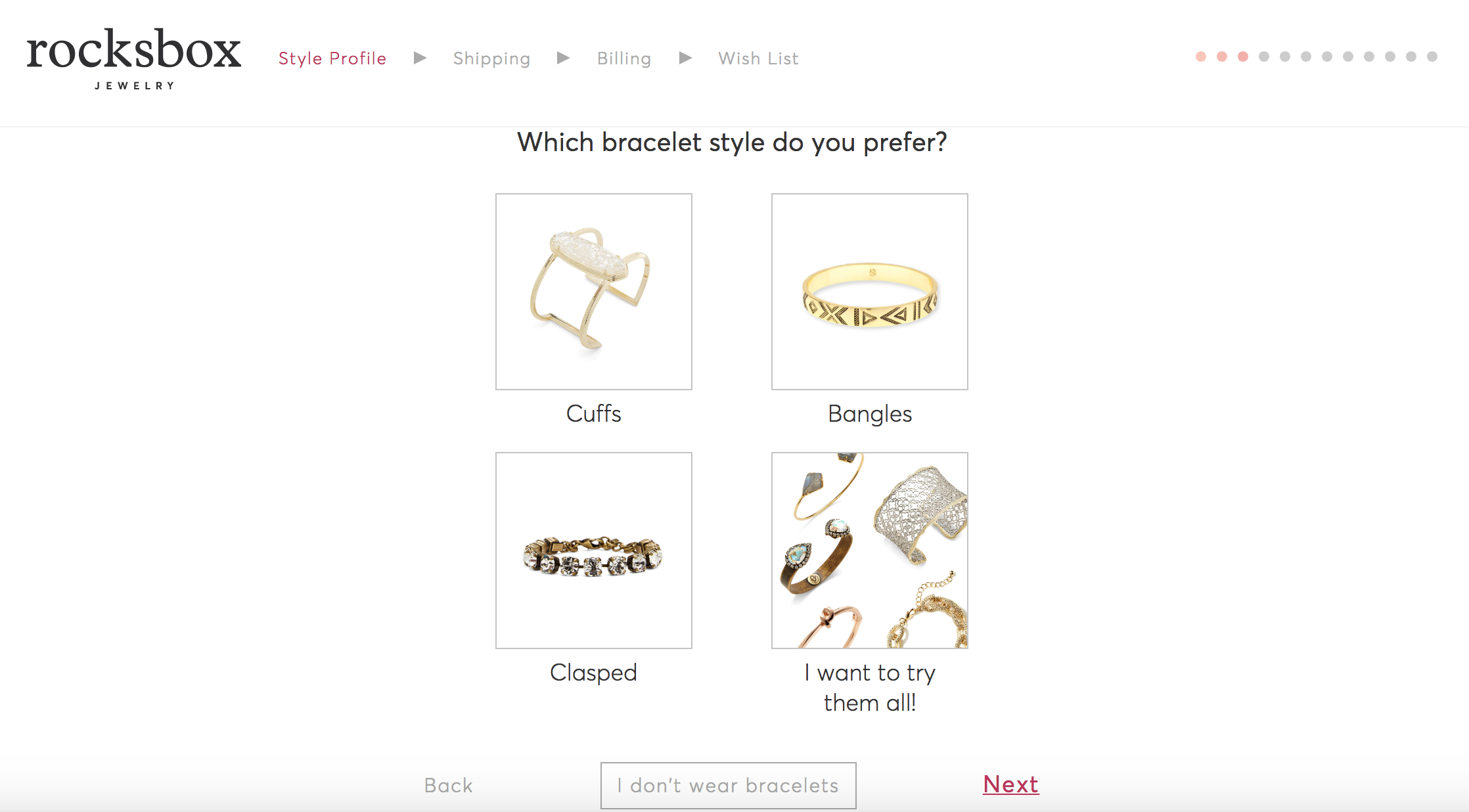 Afterwards, users are prompted to browse through the company's wish list of a couple hundred pieces and mark their favorites.
"With that, we can crunch more numbers to see the correlation and decide which pieces we should give to that person next," says Li. "Then, when it comes to actual box curation, we have a stylist who looks through all the data points that we've collected on that customer, adding that human touch to the process."
Beyond the initial data dump, Rocksbox strives to deliver the best possible experience without forcing its users to go anywhere else or hand over more information.
"What we're trying to do is show up wherever our customers are spending most of their time, and for now that's Instagram," she says.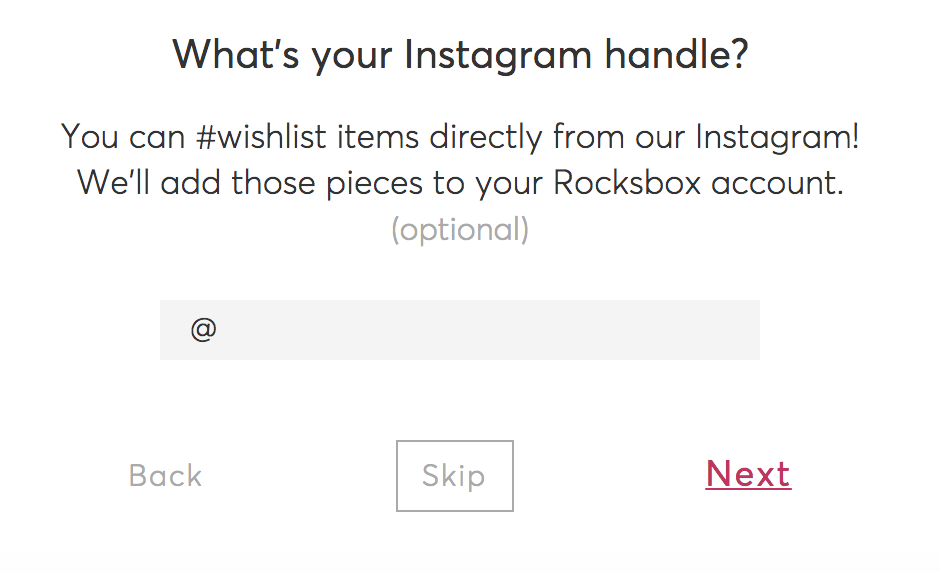 "Early on we found that our customers were going on there and leaving positive feedback like, 'Hey, I really like this piece!' That got us thinking, wouldn't it be great if that product somehow magically showed up at that customer's doorstep?
"Based on that, we launched a functionality allowing people to scroll through their Instagram feeds and write #wishlist on whatever they liked," she continues. "We would then be able to put in a request for that customer in our system and that piece would be delivered to that person's mailbox."
Human- or tech-driven: Both. "We believe in a data- and technology-driven understanding of the customer and we also believe in adding a human touch," says Li. "That's invaluable and irreplaceable by any sort of computer algorithm."
Results: When they first launched the #wishlist idea, the brand had an Instagram audience of fewer than 5,000. More than 100,000 followers later – as well as last year's $8.7 million round of funding – they're well on their way to personalization success.
The Infatuation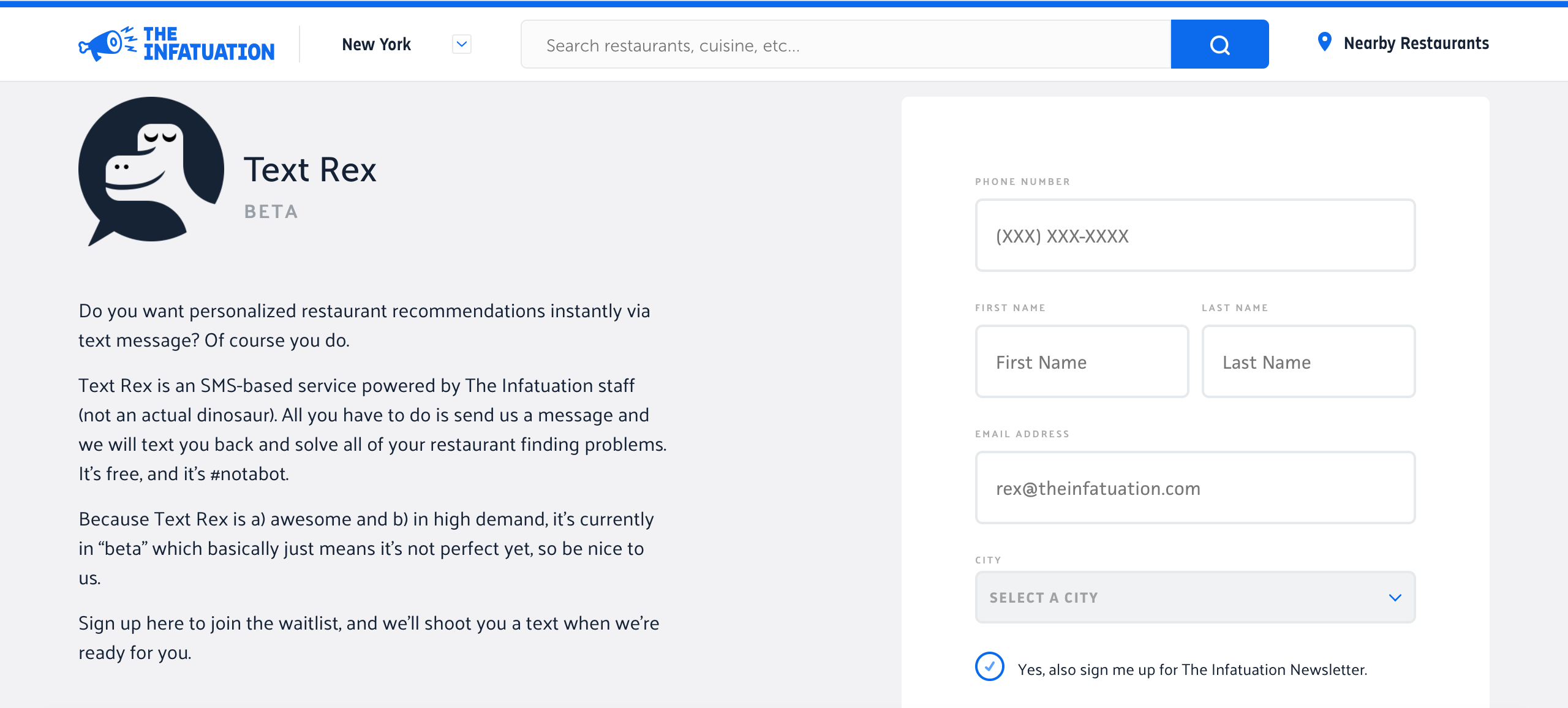 Personalization tactic: Text Rex: A human-to-human direct messaging service.
How it works: Known for its restaurant reviews and recommendations, The Infatuation recently launched a new, personal way to find just what you're looking for. Still in beta and currently available only in New York City, the Text Rex messaging service functions like an on-demand, restaurant concierge service – via text messages. Some 30 people pick up shifts not unlike an Uber or Lyft driver might. They get paid per shift and answer peoples' requests for restaurant recommendations as they come in, in real-time. And the texts keep coming.
"We now net so much data because our users are constantly hitting us with what they want, when they want it, who they're with, and what they're interested in," says Andrew Steinthal, The Infatuation's Chief Revenue Officer and Co-founder. "It's also helped us in terms of our content. We'll see certain trends on Text Rex and we'll use those in creation and strategy."
A stream of inquiries regarding weekend brunch reservations, for instance, is swiftly followed by a feature on restaurants that take brunch reservations, which makes for a predictably successful post.
And the "Super Cute Reasonably Priced Restaurant to Catch Up With A Few Friends" guide? You guessed it – a title lifted straight from actual questions and conversations with The Infatuation's user base.
Human- or tech-driven: With real people working around the clock to respond to hungry texters, Text Rex is most definitely human-driven. And besides, "The whole bot craze has come and gone," according to Steinthal. "Nobody wants to talk to a computer."
Results: Besides garnering interest from nearly 4,000 users upon launch (many of whom had to be waitlisted), The Infatuation now has a cache of dream data that continues to accumulate.
"Instead of throwing a bunch of content ideas against the wall and seeing what sticks, we now have this amazing pre-vetted database of content ideas because we just follow the trends within Text Rex," says Steinthal. "It's such a powerful tool and we're only just scratching the surface of what it can become.
"Everything is nuanced and the fact that you're talking to a human – that's what makes it special."
Anastasia Dyakovskaya is a NewsCred Contributor.