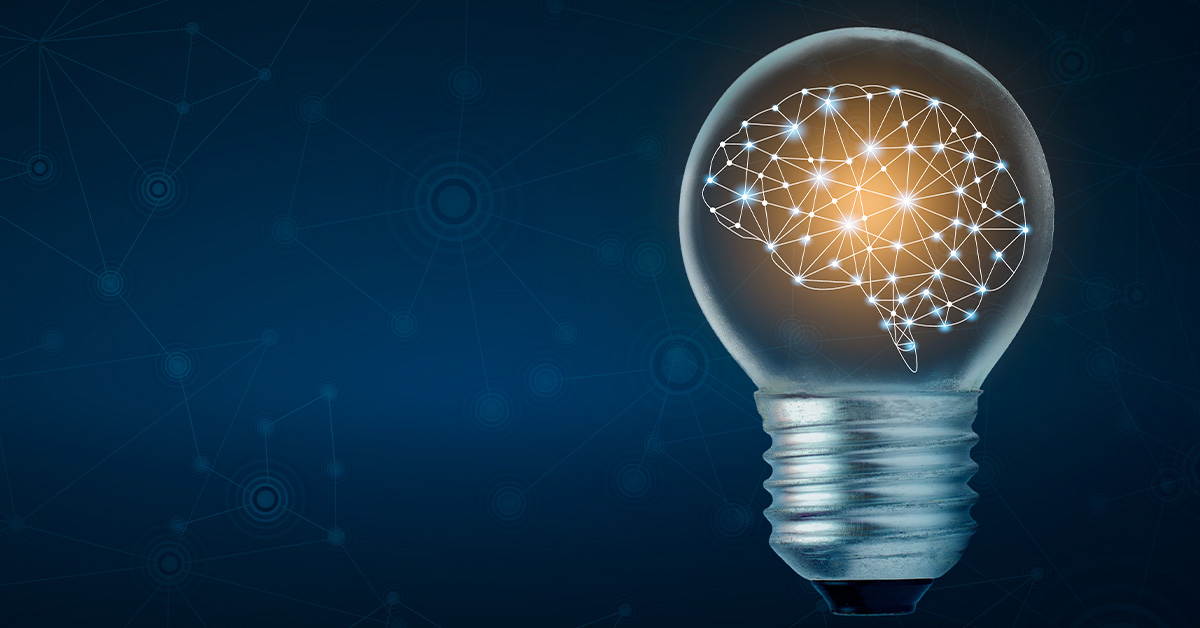 How to Convince Your Boss That Content Marketing is Here to Stay
Written by Melissa Blazejewski, April 13, 2016
You've done your research, picked a platform (obviously, NewsCred #shamlessplug), know what you need to do, but now you've got a bigger obstacle to overcome – getting buy-in from your organization. It takes a village, right? And in order to see return you have to get everyone on board.
So how do you do it? How do get your internal teams, especially your boss, to understand the value of investing in content marketing? Every organization is different but here are a few things to consider when selling content marketing internally.
Answer the why before the how
You can create workflows, assign responsibilities, and build a calendar but if you don't understand why you're doing these things you won't be setup for success. Take a step back and evaluate the bigger picture. Why do you want to invest in content marketing? What will investing in content marketing do for your business? Why is it essential that your organization take the time and dollars to rally behind content?
Answering these questions will reveal the underlying reason that you need to make internal stakeholders understand. When you make your pitch you want to ensure this bigger picture is clear to everyone in the room!
At NewsCred, we realized that we needed to stop marketing to brands and start connecting with people. We made this a reality when we made huge shifts in our content strategy by putting content at the core of our business. Our answer to the "why" question wasn't simple. We wanted our content marketing efforts to spread industry education, drive revenue on a first-touch basis, and influence deals. And as a leader in the content marketing technology space, we should practice what we preach and share our learnings and best practices.
Create an organized, actionable plan outlining team responsibilities and commitment
Whenever a new project is proposed, team members want to know four major things: 1) How will this project impact the business? 2) What role do they play in making proposed project happen? 3) What type of time commitment will the project require? and lastly 4) How will we measure success?
Let's be honest with ourselves – content marketing takes time. Lots of it. It takes months of prep, months to implement, and months to see return. However, the return can be significantly more than your investment and content marketing can be your most cost efficient marketing channel. Hubspot states that content marketing costs 62% less than traditional marketing and generates about 3 times as many leads. The project won't be a sprint to the finish line but rather a marathon that's going to take time.
Despite the timeline being long, it's best to layout a project plan from the beginning. No need to go into explicit details during your pitch but it's important to benchmark major milestones against dates so that project scope is clear. Determine what stakeholders need to be involved and when. Assign responsibilities and ensure task ownership is clear. If you can put together a cohesive plan that clearly defines the process your team will feel confident in you and the project.
Moz wrote a great blog piece that you should read as well. Check-out their Step 5: Outline a "bird's eye view" plan. Staying true to typical marketer fashion, they've coined the acronym RCEA – research, compile, execute, and analyze. Four steps that will help you develop your plan.
Make it easy for your team to implement
As you develop your project plan it's necessary to think through process and workflows. If you can't make the process seamless and efficient it's less likely your team will be willing to get behind your content initiatives. Consider a content marketing management platform that will streamline team workflows on a local or global scale.
Think through the process your team will have to take to get the task done and create a framework for your workflow. Get feedback from the people who would be responsible for helping and make changes if necessary. If your team feels included they are more likely to adopt the workflow and stick to it.
It might also make sense to run a few tests of the process to see if it's working post feedback collection. Maybe it didn't run as smoothly as anticipated and you need to rethink through steps x, y and z.
The simpler you can make the process the better! Don't be afraid to rethink how you do things and ask yourself, "Why are we doing it this way? Is there an easier, more efficient way?"
Know your internal audience
Before you walk into the room and make your big pitch it's best to know who will listening to you. Maybe you're trying to convince your boss or a room full of bosses – who knows!? Regardless, be ready for anything they throw your way. What questions will they undoubtedly ask? Who is going to give you the hardest time? What will they challenge you on? Who will be your champion?
It may make sense to have smaller, intimate meetings before the big sell. Talking through your initial plans and ideas with the decision makers individually and outside of silos could help. These conversations may reveal internal champions that you can lean on to make your case stronger; they can also surface challenges you didn't initially think through.
Some of the most common questions marketers get asked about their content marketing campaigns include:
How much is this going to cost?
What can we expect to see come from this? When can we expect to see it?
Are our competitors doing this? If so, what are they doing?
Do we really need to do this?
Is now the right time?
What type of content would we create? How would we distribute?
Who is going to create all of this content?
How will we measure? What does success look like?
Vertical Measures, created this awesome content marketing campaign called Convince Your Boss, which is a resource to support marketers who are struggling to get buy-in from their boss or organization. Check out their "Why Bosses Say No" page and watch some of the videos they've created. While their answers may not be specific to your organization per se, you can use their framework to mold your responses and prepare.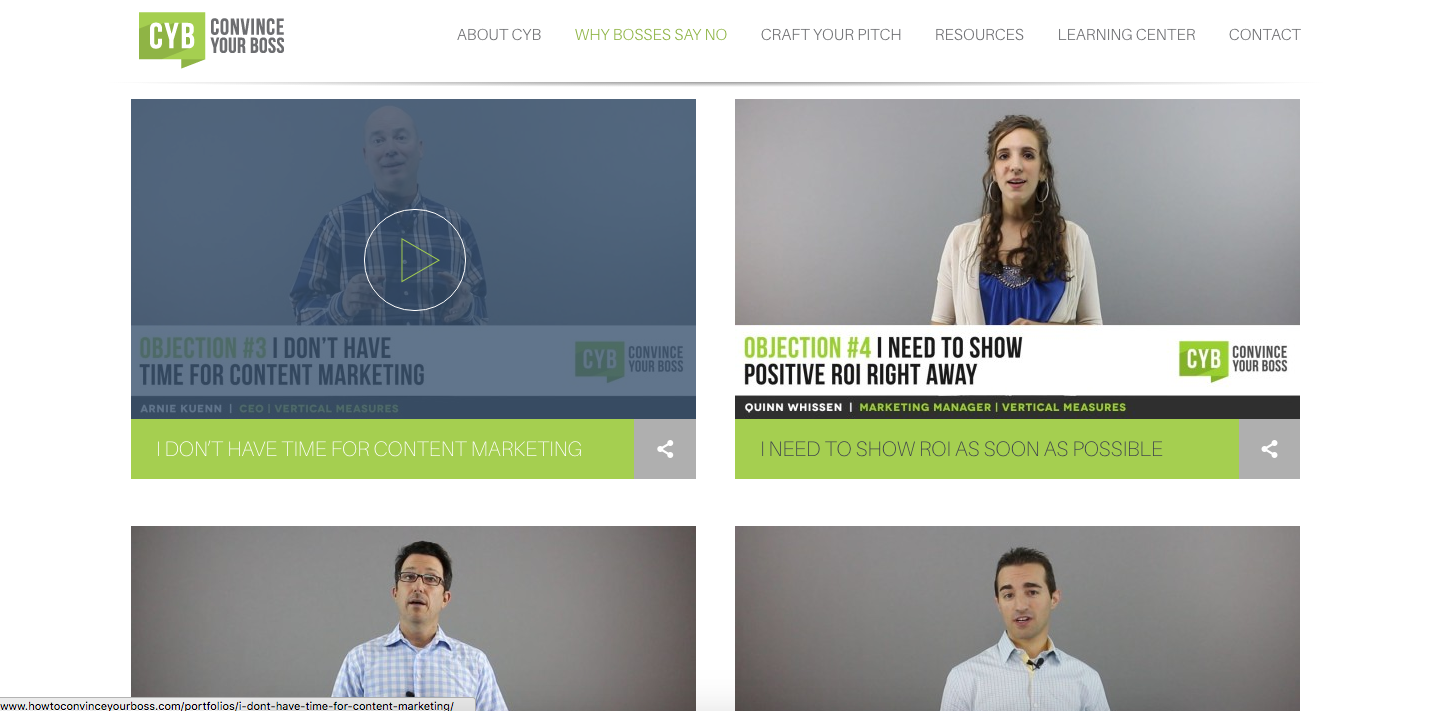 Let me repeat the question you will certainly be asked… How will we measure? What does success look like?
I can't tell you how important this part is and you'll probably spend a lot of time debating this one. The best thing to do here is to do your research. Are there companies like yours doing something similar? If so, how are they defining and measuring success?
Consider talking with other companies who are "doing it right" by your standards. Don't be afraid to reach out and ask for advice – whether it's best practices or learning from mistakes it could help you shape your definition of success. Don't forget about having internal conversations too! Speaking to coworkers outside of your function could help you determine metrics that should be measured.
Go back to your campaign objectives and determine what metrics make the most sense for your company specifically. Maybe your goal is to create content that people use as a resource and so downloads are the most important. Ask around and get the opinion of stakeholders. Once you have these answers document them and share. Make sure your team or boss sees you have a measurement plan is place because it will be the answer to many questions you get along the way.
We analyze everything at NewsCred – not only our efforts but the efforts of our customer base as well – and found that there is a compounding effect to content marketing. When we publish consistently everyday, month over month, the value of our content and ultimately our ROI increases.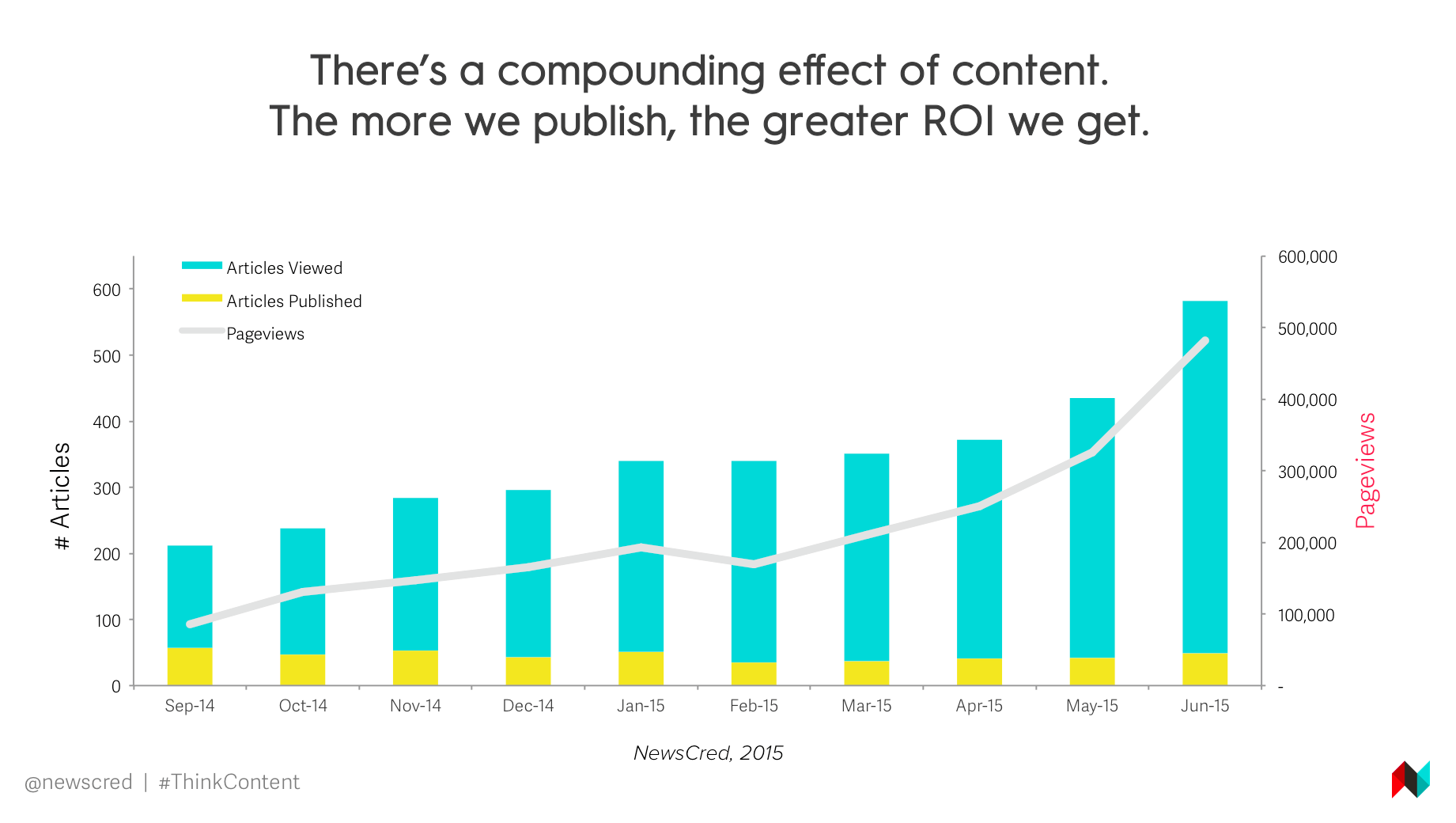 We built a simple framework that enables us to consistently measure the right things to determine if our efforts are working:
1. Brand Awareness + Health: Is our content driving early stage prospects? How do they feel about us?
2. Conversions: Is our content turning prospects into customers?
3. Retention: Is our content driving retention and upsells?
Then, we dig deeper and look at the metrics associated with each of those bigger business goals. The trick is that they need to ladder up to KPIs and not stop at the vanity metrics themselves. Take a look at the chart below as it lists metrics you should set targets against and consider measuring based on your content marketing objectives.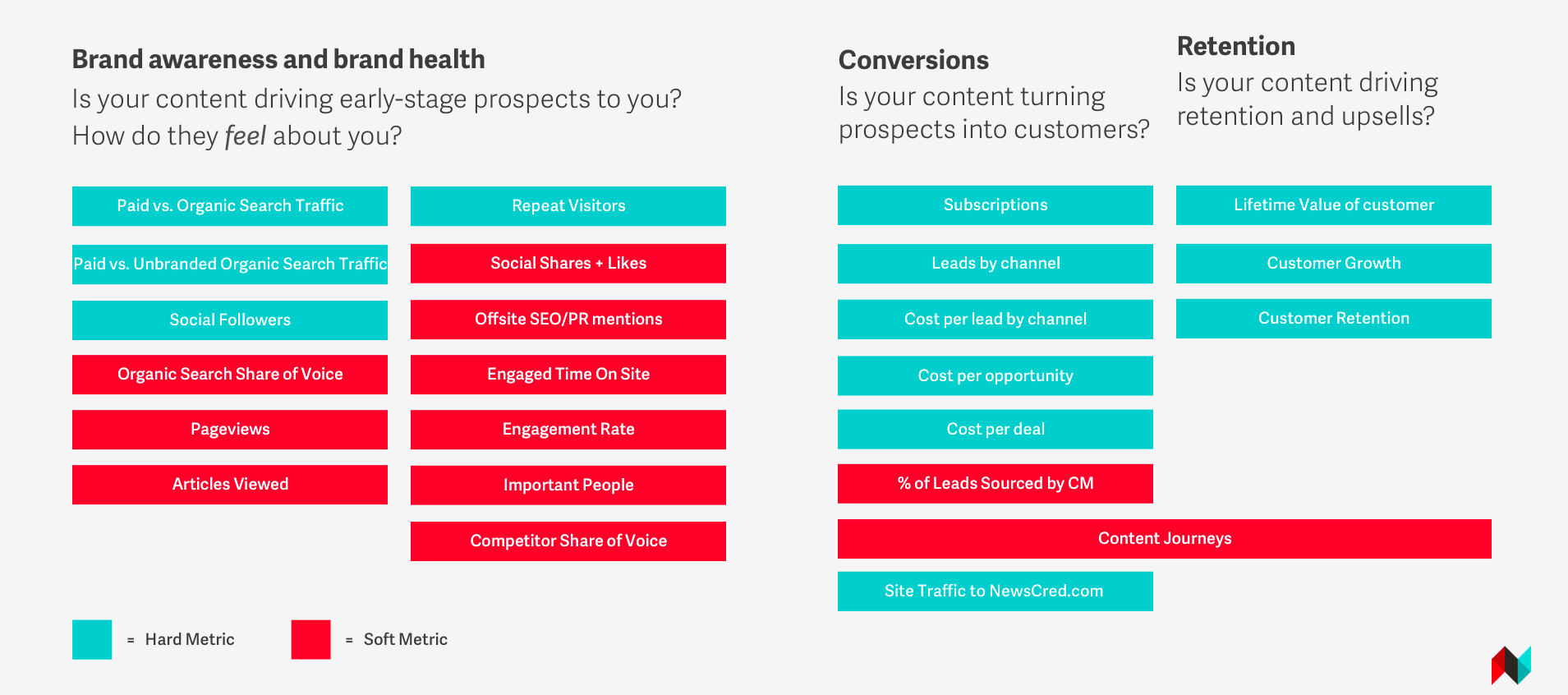 Communicate, over and over and over again!
Whether it's good or bad, regular communication about your project helps. Giving your team and boss insight into what's going on prevents unanticipated conversations later down the road. It also brings to surface things that are working and thing that aren't.
In order to give an update you need to dig into your project and be tough. If things are going extremely well – share it! Why are things working so well? Share that too! On the other hand, if things aren't going so well, step back and ask why. What are you planning to change to improve results? This might not be the best news to deliver but share it anyway. Don't forget to share your solution. Transparency will be appreciated and respected.
At NewsCred, our content and social team share regular updates. Our marketing team receives emails every two weeks with updates about our content marketing efforts – how we're performing based on historic data. We also review quarterly data to determine if we need to make adjustments to our strategy to enable us to be more efficient with our time yet see the return we expect and need. Our team also shares our successes and failures with the entire company during our "all-hands" meetings.
Rule with an iron fist when necessary
Sometimes you just need to put your foot down. There can be a lot of red tape with any internal project; lots of people can be involved; numerous decision makers need to give sign-off and approvals – don't get me started on budget conversations…
When appropriate you may need to say, "We're doing this and I need your support". Hold your team accountable and use your internal communications to get what you need. Sometimes it's best to highlight project blockers so it becomes clear when you need to "dictate" responsibilities.
Custom Content Council has found that 61% of consumers say they feel better about, and are more likely to buy from, a company that delivers custom content, so the odds of success are in your favor. Now you just need to convince your boss! Ready your pitch and follow the advice above to help make the business case. Maybe bring some sweets along to your meeting too – it couldn't hurt, right?